With the first half of the NBA season in the books, it's time to sit back, relax, and break down the best All Star weekend in sports with some good ole fashioned gambling.
Friday Night Events

All-Star Celebrity Game

Besides the All Star game itself, this is probably the least watched event of the weekend. Raise your hand if you remember who won the MVP of this game last year...... Yes they played last year............. Time's up, Kevin Hart (you could tell it was a lockout year.)
This year's list of celebrities isn't much better, but here's the list of players, coached by James Harden and Russell Westbrook (somewhere Kevin
Durant is whining that he isn't coaching):

Kevin Hart (Shitty comedian/actor)
Ne-Yo (Shitty Singer)
Nick Cannon (Shitty Person)
Josh Hutcherson (Kid from the Hunger Games)
Trey Songs (Shitty Singer)
Usain Bolt (Olympic Gold medalist!)
Arne Duncan (Secretary of Education ((WTF is he doing here))
Terrence Jenkins (E! Anchor)
Common (Shitty Singer/actor)
John Schriffen (ABC News guy)
Ryen Russillo (ESPN Host)

NBA/WNBA Players:

Clyde Drexler
Sean Elliott
Bruce Bowen
Dikembe Mutombo
Tamika Catchings (Woman)
Maya Moore (Woman)

No idea who is on what team for this game because there are no odds, but whoever has Dikembe Mutombo will win this game. He looks like he's in great shape from this commercial.
PS Queen Latifah is an assistant coach in this game, so feel free to not watch it like the rest of the world.

BBVA Rising Stars Challenge

This used to be the Rookie-Sophomore game, now it's two teams drafted by Shaq and Barkley.
Rosters from Wikipedia.com
The game pick: Team Chuck +5.5

I know I'm picking against the best player(s) in this game, but Team Chuck feels like they can out rebound Team Shaq.
Game MVP, but I like Kenneth Faried (8/1) and Isaiah Thomas (18/1) from Team Chuck and Daimian Lillard (13/2) and Kyrie Irving (7/1) from Team Shaq.

Saturday Night Events

Shooting Stars

This is one of my favorite events of the weekend. You shoot from different spots on the court and the best time wins. There is 1 NBA player, 1 former NBA player, and 1 WNBA player on each team.

This year there are 2 stacked teams and 2 teams who I don't even know who they have....

Team Harden 2/1:

James Harden, Sam Cassell, Tina Thompson

Team Westbrook 2/1:

Russell Westbrook, Big Shot Bob Horry, Maya Moore

Team Bosh 5/2:

Chris Bosh, Swin Cash, Dominique Wilkins

Team Lopez 3/1:
Brook Lopez, Tamika Catchings, Muggsy Bogues

The pick: Team Westbrook

The difference between these two stacked teams is Big Shot Bob. He will go 1/1 in the Half Court shot.

Taco Bell Skills Challenge

The Competitors:

Jrue Holiday 3/1
Brandon Knight 11/2
Jeff Teague 11/2
Tony Parker 7/2
Damian Lillard 7/2
Jeremy Lin 4/1

I know Holiday has had a career year this season, but I'm going with Tony Parker at 7/2. He's the defending champ and I feel this is a Spurs dominated weekend.

Foot Locker Three Point Contest

The Competitors:

Kyrie Irving 3/1
Matt Bonner 5/1
Paul George 5/1
Ryan Anderson 4/1
Steph Curry 5/2
Steve Novak 11/4

Sticking with the theme of Spurs dominating, I love the value of Matt Bonner at 5/1. MLZ is a big fan of Steph Curry to win, but there isn't a ton of value there at 5/2.

Sprite Slam Dunk Contest


The Competitors:

Eric Bledsoe 4/1
Gerald Green 3/1
James White 8/5
Jeremy Evans 6/1
Kenneth Faried 5/1
Terrence Ross 3/1

An interesting group and a large field this year with 6 competitors. I think James White wins strictly because of his previous YouTube history, and more importantly that it comes down to fan vote. He also has nothing else going for him. He doesn't play at all so he's got plenty of time to come up with cool dunks. I have high expectations for this year's dunk contest.

Sunday

62nd NBA All-Star Game

Western Conference is -3.5 over the Eastern Conference with an Over/Under of 289.5

With the recent Jordan comments about picking Kobe first over LeBron, it's pretty clear that either Kobe is going to play with a lot of swag and selfishness (since he can't with the Lakers), or LeBron will continue to dominate and throw up some crazy triple-double numbers. I'm taking the

Eastern Conference +3.5 and Under 289.5.

MVP: LeBron James 7/1 or Kobe Bryant 15/2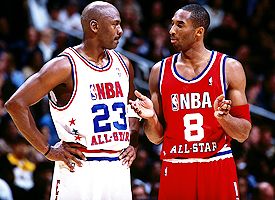 Have a good weekend everyone.

ap3
Friday, February 15, 2013